Less than an hour before it began, I posted a last-minute announcement on Facebook to alert my local friends about a rally to support immigrant rights and religious freedom in opposition to Donald Trump's recent orders.
No big deal, right? Well, maybe it was.
My announcement about this local rally in our medium-sized Midwestern town, generated dozens of "likes" from friends and family across the country. I was surprised to see all the support coming from outside our community. Clearly people care about what's going on in our new political climate and are eager to act — even if it's just clicking an emoji. Who would have guessed that a wave of Facebook "likes" would inspire me to write, but here it is, another illustration of the power of social media.
The group that organized the rally, Not in Our Town, hatched the plan just three days before the event. Yet despite the very short notice and with almost no publicity, more than 1,100 people from a community of about 100,000 residents filled the auditorium beyond capacity.
The size, the diversity and the energy of the crowd moved many to tears (including me). I may never have been in a room more diverse than the room last night. It was uplifting to see all the different people — young and old; black, brown and white; immigrants and natives; the religious and non-believers — supporting our relatively tiny Muslim and immigrant populations. The love and support in the room was palpable. It was the type of experience all of us should have more often.
There was also a surprising amount of support from people who might have shied away from such an event. Both of our U.S. Senators dispatched staffers to deliver statements of support. Both of our local Mayors spoke passionately about the need to uphold our values. Even our State Representative, a Republican no less, was in the house, standing up to applaud several speakers. The police were there too, on duty and in uniform, and at least one of them openly clapped his support throughout the event (see photo).
I report this because it felt good to be there. And in times like these it's important to share moments of uplift with others who may be feeling discouraged and helpless. The rally was a powerful display of solidarity. It was spontaneous and happened in a pretty conservative community. It wasn't well-organized like a march on Washington. It didn't take place in a major city , in a big media market, or in a progressive enclave. And it wasn't held on a weekend. These things made it all the more impressive.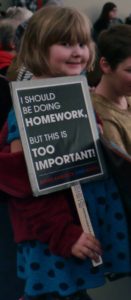 When members of a community answer a call to show up on a cold Wednesday evening to support their immigrant neighbors and to reaffirm the values they share, it serves as a powerful demonstration of true citizenship. The kind of vocal, active and vigilant citizenship that our times require.  We've seen a lot of this kind of direct action lately.  Maybe it's a sign of a renewed and re-energized democracy.  Or maybe it's just the people making America great again.
Photos thanks to Gabriel Jiménez Glez